The name of this special room means'sky', a very fitting name for a room.
with an outdoor bath set on a hill overlooking the bamboo grove.
Enjoy moments of rest and recuperation in the open-air hinoki cypress wood bath,and feel as though
you are floating on the gentle breeze.
Room
Capacity of four people
Japanese-style room with 11 tatami mats (approx. 17 square meters) , bedroom with 7 tatami mats (approx. 11 square metres) and 'irori' open hearth room with 12 tatami mats (approx. 19 square meters)


*We ask written consent of the facility use to the customers who is accompanied by minor.

Bath
Open-air bath, a hinoki wood semi-open bath and shower room
*All the Takefue bath is sink over source.
Dining
Breakfast and dinner are served in your room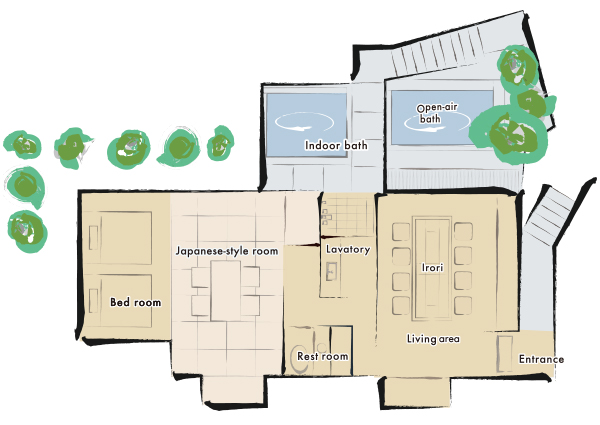 ※When it's clicked, it becomes big.

Check-in and Check-out
15:30 to 11:00
*Check-in time is 15:30. We are not able to check in prior to 15:30. However, facilities such as Zen spa and private open-air bath is available(surcharge).
*Check out is possible to extend till 13:00 with 5,000yen a room per hour. However, it may not be able to accept due to availability, so please check in advance.

Facilities
Air conditioning, LCD TV, DVD player, wash toilet, hair dryer, makeup mirror, towel warmers, aroma mist diffuser, gown, reading light, refrigerator, millstone coffee. hot pot, bamboo water, a coarse oilpaper umbrella, slippers, basin

, Nanocare, Soda stream, CD player

Amenities
L'Occitane shampoo,conditioner and body soap
Takefue special skin water and face soap for both men and women
Cleansing liquid and milky lotion for women
Skin lotion and milky lotion for men
Amenity set for women:body towel,tooth brush,hair band,hair clip,shower cap,hair clastic and body lotion
(placed in Takefue original box)
Amenity set for men: body towel,tooth brush,shaving razor,shaving cream,hair brush and body lotion
(placed in Takefue original box)
Chikujyo no Ma
Chikujyo no Ma is a luxury space available only to guests staying in Kokyuan , Sayo , Shienan or Bettei Tenku.
It is equipped with a large 7 m x 5 m 'kakenagashi' outdoor bath and an audio room.
* Bookable for 60 minutes