The Building facing THE GARDEN TAKEZONO is Takezono.
It has a large Japanese style room which can have up to 20 guests with a Zashiki counter.
It is glass-faced and you can relax mhile watching THE GARDEN TAKEZONO's waterfall.
On the second floor we have a Zen spa and a deck terrace with a lot of open free space
where you can feel a nice breeze.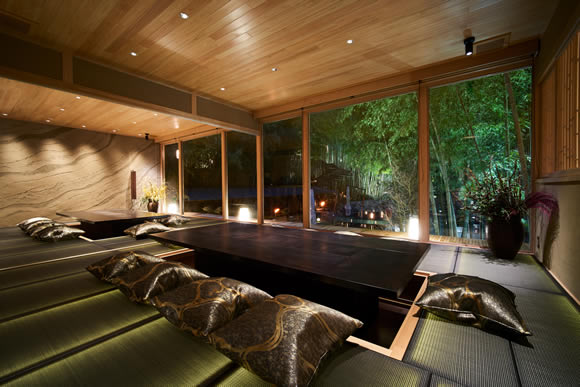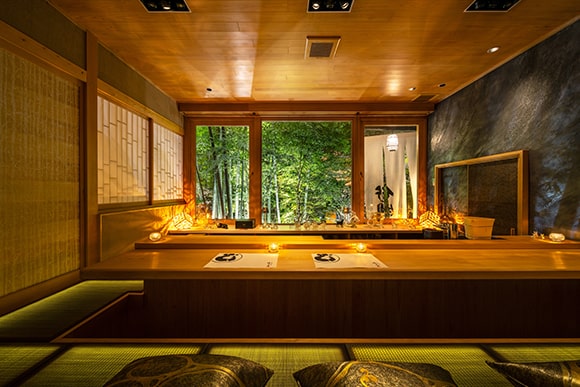 Lange Japanese style room on the first floor
A Japanese style room on the first floor is available for groups of up to 20 people.
Since we have a Zashiki counter, we can prepare special tempura and sushi according to your requests.
For various situations, such as anniversary and birthday celebrations, you can have a good
time with your friends and enjoy meals cooked by our head chef until your heart's content.
Also, there is an original souvenir gallery in the corridor with items carefully selected by Takefue.
So please come and see these special souvenirs for yourself for gifts and for travel mementos.
※ Reservations must be made for the Zashiki counter.

Zen Spa and deck terrace on the 2nd floor
On the second floor we have a Zen spa and a deck terrace with tables, chairs and a counter.
On the deck terrace, you can enjoy watching the waterfall from above and see a beautiful
view of a vivid green bamboo grove.
In our Zen Spa relaxation salon, we take care of each guest with a hearty treatment for their
individual body condition and ailments.
There is a powder room which is available only for daytime massage so guests can enjoy a simple spa massage.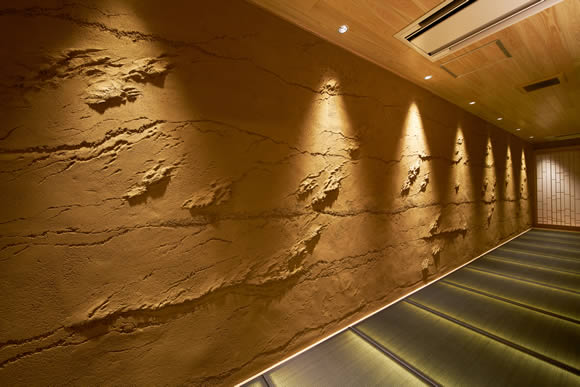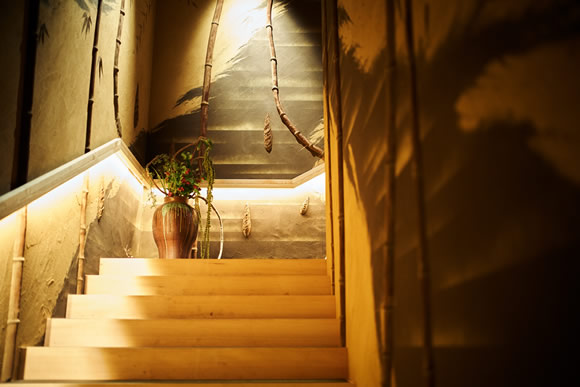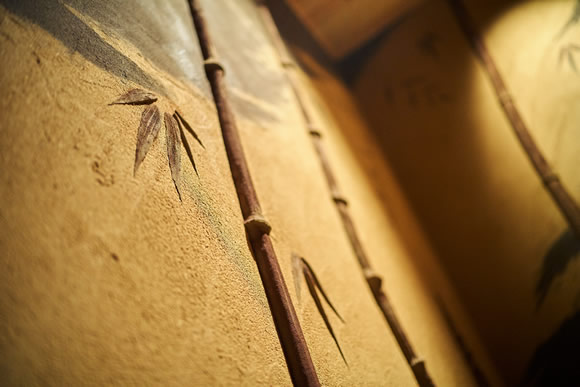 Kotee
There is a piece of original artwork made of plaster and shaped by the use of a trowel on a big wall.
It shows a huge world across the whole wall done as a 3D natural sand art. Takezono is a fantastic
and sophisticated bamboo garden.

What is Kotee?
By using plaster and a trowel, a Sakan artisan creates a three-dimensional drawing on a wall.
Kenichi Nagumo

1983 -Worked for Nishizawa Kogyo Co. Ltd.
1995 – Awarded third prize by Nissaren Zenkoku Kyogi Taikai at the JAPAN PLASTERERS' ASSOCIATION contest
1998 – Given the Best Artwork award by Japan Society For Finishings Technology
2014 – Given The Encouragement Award by the Clay Wall division of the Gunma Machi Hito Kenchiku Association (the city, citizens and archtectural association of Gunma prefecture)
2014 – He gave Kotee artwork to the Maebashi Ikuei High school brass band and in return, received a letter of appreciation.
2015 – Given a Best Artwork award at the 10th Japan Shikkui Association contest. It was don on a wall in a CT simulation room of the particle beam medical center at Gunma University
2016 Appeared on a broadcasted of the 'Gekiteki Before After' TV show of the Asahi TV network as an mysterious sakan artisan.

Work details
Works for the clay wall division of Nishizawa Kogyo as a craftsman of clay, shikkui, Kotee, etc. making and repairing cultural heritage sites.
He is a specialist in the area of three-dimensional Kotee wind-walls made of packed earth.
Due to his abundance of experience, he is well respected and trusted by the younger generation as a plasterer and Sakan artisan.