Introduce souvenirs available at Takefue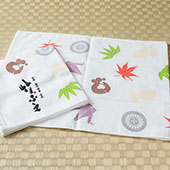 Takefue original-design towels
These colourful towels are Takefue's own design.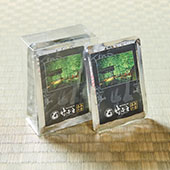 Takefue's bath salts
Takefue's own bath salts based on the mineral contents of Takefue's hot spring.
Enjoy the atmosphere of Takefue's hot springs wherever you like.
*Please be aware that this product is intended to create the atmosphere of Takefue, rather than recreating the hot spring itself.(Contents: 5 x 25 g packs)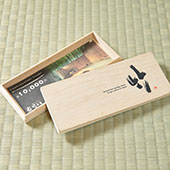 Gift voucher
¥1,000 voucher | ¥10,000 voucher
This gift voucher can be used to purchase Takefue services.
It is valid for overnight stays, the zen spa, souvenirs etc. within the Takefue complex.

Takefue water mist
Provided in guest rooms as a beauty product, Takefue water mist moisturizes your skin without the need for lotions.
Its skin-friendly ingredients mean that you can use this product not only on your face but all over your body.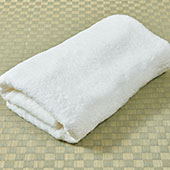 Bath towel
Takefue's original-design bath towels, provided in all guest rooms.
A single-ply, slightly larger bath towel made in Japan. The more you wash it, the softer and fluffier it becomes,
adding extra luxury to your bathing experience.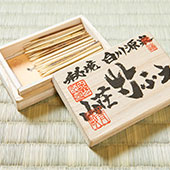 Toothpicks
Made from the wood of the lindera tree, the most precious of toothpick materials, these toothpicks come in a box made of paulownia wood, an original Takefue design.
These are premium toothpicks made individually by skilled professionals to ensure they do not break under pressure.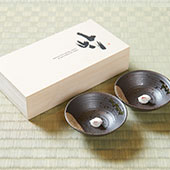 Rabbit sake cup
The rabbit on the bottom of this special cup symbolises that Takefue was built in the Year of the Rabbit.
Sold in a pair for use by couples.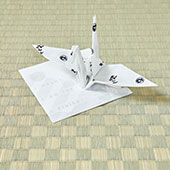 Shape memory glass cleaning cloth
A pocket-sized cleaning cloth with the Takefue logo. Perfect for cleaning glasses, smartphone screens etc.
After you unfold this cleaning cloth and use it in the normal way, you can return it to its original shape by tapping it in the palm of your hand.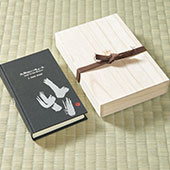 Five-year diary
Takefue five-year diary.
Keep your memories in this diary and use it to collect your thoughts.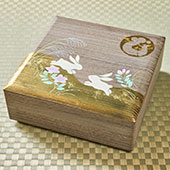 Rabbit jewelry box
A Takefue original-design box for jewelry and accessories, just like those provided in guest rooms.
Made through a collaboration between Takefue and the makers of traditional Aizu lacquerware, which has a 500-year history.
Featuring a painting technique known as 'hanayuri', which often appears on everyday items, this box has a warm, rounded elegance.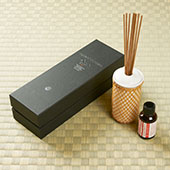 Bamboo diffuser
Diffuses the gentle fragrance of bamboo essential oil. Alcohol free.
The diffuser and sticks are also made of bamboo.
The scent lasts for about two months, depending on the temperature and weather.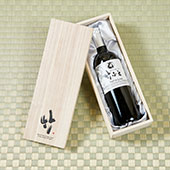 Fall in Love
An additive-free soft drink made from water and high-quality, hand-picked tea leaves.
Known as a 'tea jewel' for its shining colour, this is a pure, fragrant and floral tea.
The smooth, deep flavour of this special tea spreads through your mouth.
(Volume: 750 ml)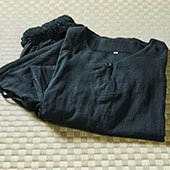 Cotton pyjamas
These soft-textured, Takefue original-design pyjamas are provided in guest rooms.
Available in sizes S, M and L.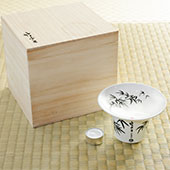 Tea incense burner
This original-design Takefue incense burner also functions as an air purifier.
You can burn it as it is, top it up with water for a humidifying effect, or add scents such as tea leaves, coffee or aromatic oils.
The incenser burner comes in a special paulownia wood box.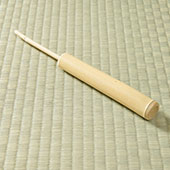 Bamboo water gun
This bamboo water gun is a traditional Japanese toy.
It's free for children under the age of 12.
*There is no charge for this toy.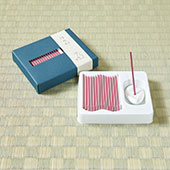 Rabbit incense
This 'rabbit' incense is so called because Takefue was built in the Year of the Rabbit.
Enjoy its light, subtle aroma.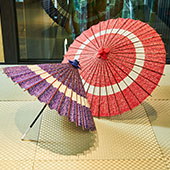 Umbrella
These umbrellas are provided in the Takefue complex.
Specially crafted for Takefue by umbrella artesans, they are available in red and purple in a nostalgic Japanese design.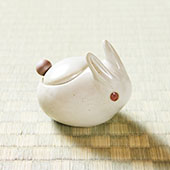 Rabbit sugar pot
These pots are used to provide sugar in Takefue guest rooms.
The rabbit design symbolises the fact that Takefue was built in the Year of the Rabbit.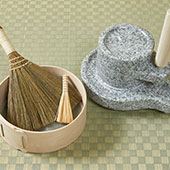 Stone mortar
This stone mill is provided in Takefue guest rooms.
Ingredients ground using this stone mill retain their natural aroma, flavour and dietary fibre content after grinding.
We recommend it as a traditional Japanese product.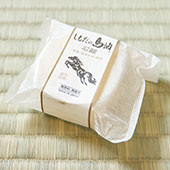 Bayu (horse oil) soap
This handmade soap is made of natural substances and includes horse oil as a moisturizer.
Free of colour and fragrance, it forms a fine foam that moisturizes your skin as it cleanses.
Includes a foaming net.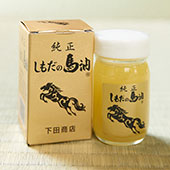 Bayu
Bayu (horse oil) is famous in Kumamoto Prefecture as a traditional medication.
This is pure bayu made with 100% natural oil, free of artificial additives or fragrances.
Horse oil closely resembles human sebum, so it is gentle enough for use on a baby's skin and also beneficial for skin conditions such as dermatitis and burns.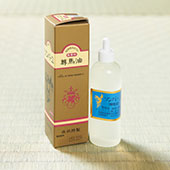 Son bayu serum
This type of horse oil is known as 'son bayu', and is extracted from the lightest part of ordinary bayu, then purified.
It soaks well into dry skin, but without making the skin too oily, which makes it a popular makeup base as part of a morning skin care routine.(Volume: 55 ml)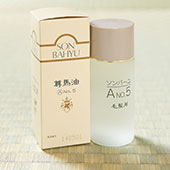 Son bayu hair oil
Bayu is the main ingredient of this oil, which promotes healthy hair and scalp.
Massaging your scalp with this product helps to prevent dandruff and itchy skin, and gives you glossy, healthy hair.
(Volume: 80 ml)

Chestnuts boiled in their inner skin
Picked in the morning, these chestnuts are shelled, retaining their inner, astringent skin, before being boiled the same day in a process that maximises each chestnut's elegant flavour.
These moist, sweet chestnuts are delicious eaten with shochu.(Contents: 2 x 150 g packs)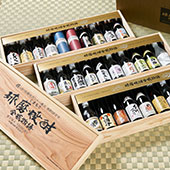 Kuma shochu 28-variety set (in a wooden box)
Kuma shochu is produced from rice grown exclusively in the Kuma area.
This set contains the 28 most famous varieties of Kuma shochu and comes in a wooden box.
Why not enjoy comparing the 28 varieties?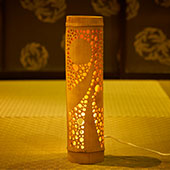 Interior lamp
Natural indoor lighting made from natural materials.
Its warm colour brightens up the room and creates a relaxing atmosphere.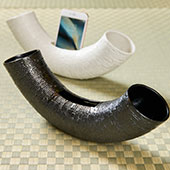 Shigaraki china smartphone speaker stand
This Shigaraki china smartphone speaker stand works well in a range of different spaces, from Western to Japanese style.
Its modern design and texture make it unique among pottery.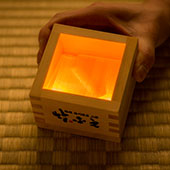 Hikarimasu
Hikarimasu is a square wooden sake cup that lights up in the bottom four corners and can change colors and patterns when tilted.
It can surprise and impress you while you enjoy a good time drinking sake.
It has a removable board inside that can easily be pulled out, so you can wash it and use it over and over.
Also, if you download the Hikarimasu application, you can change the lighting patterns.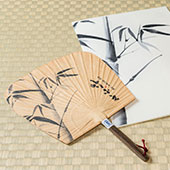 Takefue special uchiwa
The Shibu Uchiwa paper fan, produced by Kurikawa shoten, is recognised as a traditional craft of Kumamoto Prefecture.
We have prepared an original Takefue design for you.
It is wrapped in a unique bag, so you can give it to someone as a present if you choose.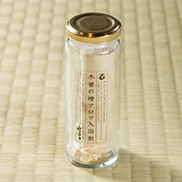 Kiso's Cypress Aroma Bath Salt
Shinju Kiso's cypress and natural essential oil is a Takefue original aroma bath additive.
You can enjoy the fragrance of hinoki and gentle cypress unique to natural materials in the bath.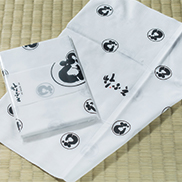 Crest Cloth Face Towel
Takefue's original towel. We collaborated with the brand Nijiyura.Made with silk, it can be used in various arrangements and scenes.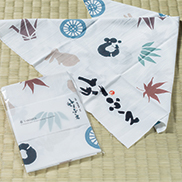 Original Pattern Face Towel
Takefue's original towel. We collaborated with the brand Nijiyura.
This is made with a dyeing technique in which dye is poured and is characterized by dyeing cleanly without affecting both sides.
This is probably the most impressive texture there is.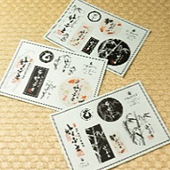 Original Japanese Paper Sticker
Takefue's original Japanese paper sticker. There are three types to enjoy putting on various places such as on your suitcase or in your notebook.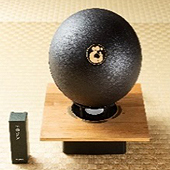 FUMA Scent Circulator with Logo
This scent circulator is an innovative circulator that can deliver your desired scented breeze with pinpoint accuracy. Just by placing the aroma stone on the pedestal, a scented breeze will be delivered to you. If you use the application for iOS, you can set the recommended airflow and wind direction according to your preference.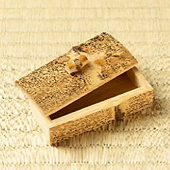 Bamboo Toothpick Holder with Lid
A bamboo toothpick holder with a sesame-patterned lid made with Mosochiku bamboo. It is a convenient solution for holding a fair amount of toothpicks. Making the best use of the original bamboo material, it has a delicate, beautifully warm appearance whilst also being easy to use.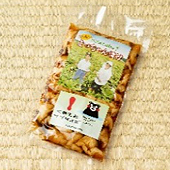 Pickled Macchan
Oguni radish is homemade by the farmer husband-and-wife, Mr. Yoichi I and Mrs. Makiko I, who have been making it for more than 50 years. It is a very popular item at our hotel and is recommended for use at home or as a souvenir.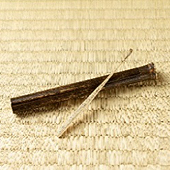 Black Bamboo Earpick
Using carefully selected natural bamboo, a skilled craftsman carefully molded this earpick. Also included is a convenient black bamboo carrying case. Experience the satisfaction of easily reaching those itchy areas like never before.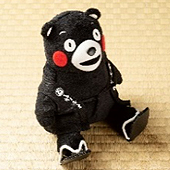 Kumamon Plush Toy Wearing the Takefue Traditional Happi Coat
Takefue's Kumamaon was born in the first year of Reiwa. He wears sandals and the original Takefue coat. The sitting Kumamon Plush Toy is perfect for commemorative photos, and is recommended for travelers regardless of gender.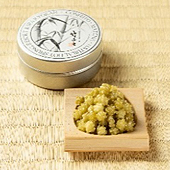 Konpeito Candy
Konpeito candy has a refined and elegant sweetness and is made with love using matcha powder from the long established company "Ujien". Packaged in an original Takefue can and recommended as a snack to go with tea or as a souvenir.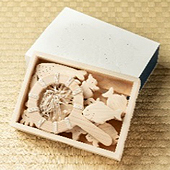 Wood Bath Play Set
You can float it in the bath, scoop it up with a net, play fishermen with it, or put it back in the box and enjoy it as a puzzle game. Made using Japanese cypress, which is resistant to water. Finished without paint. Includes a set of ten sea creatures and a fisherman's net.