Only available for guests staying in the Kokyuan, Sayo,Shienan or Bettei Tenku rooms. Chikujo no Ma is a luxury space, a secret castle built on a stone wall surrounded by bamboo. Enjoy some quality time in this healing space.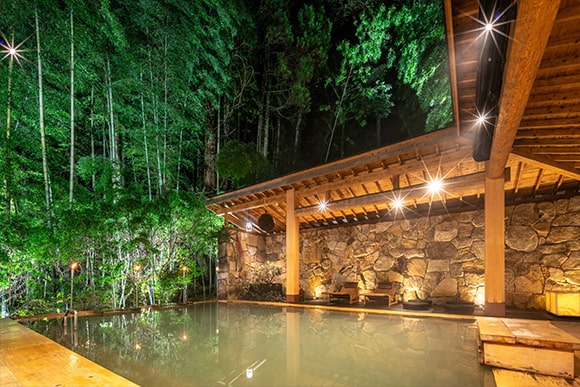 Open-air bath with a view
Large open-air bath (7 m x 5 m)
A beautiful view of the bamboo forest combined with a huge, pool-like open-air bath. The broad space, the light breeze caressing your skin and the sounds of nature in your ear will soothe your body and soul.
(Rentable for max. 60 mins)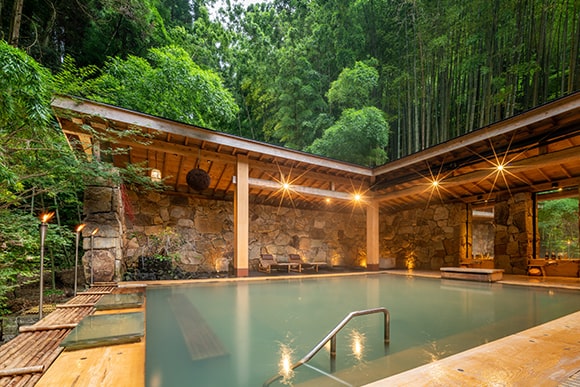 Have a drink in luxury surroundings
In the open-air bath area there are tables and benches made of hinoki cypress wood.
Order a Guinomi drink set and get a bit tipsy while soaking in the open-air bath.
Experience all four seasons – the moonlit spring nights, the balmy summer breeze, the autumn leaf colours and the glistening winter snow – with a drink in your hand.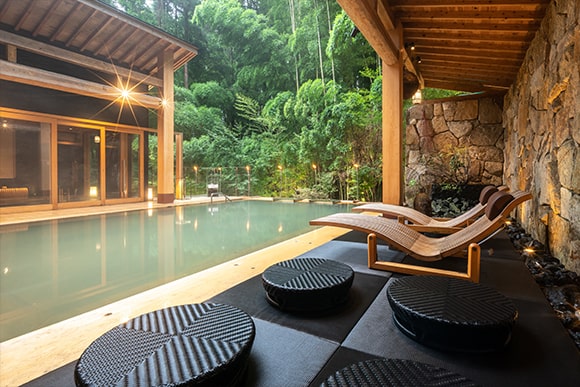 Tatami deck (next to the open-air bath)
Relax and stretch out your legs on the tatami deck.
The tatami mat is waterproof so you don't need to worry about damage from the hot water.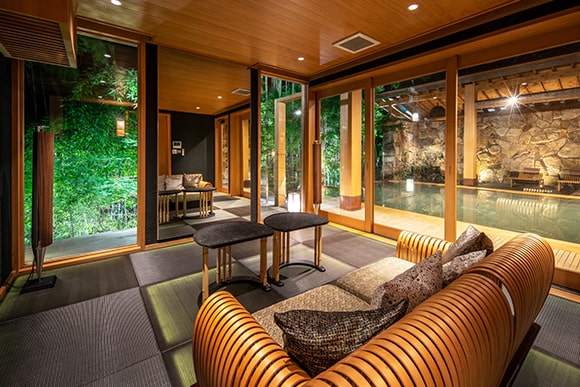 Equipment that blends into the space GLAS LUCE
The space includes a big mirror-like Magic Mirror-model GLASS LUCE TV.
When switched on, the image looks just like a work of art.
It draws you into a beautiful world of light, completely unlike normal on-screen images.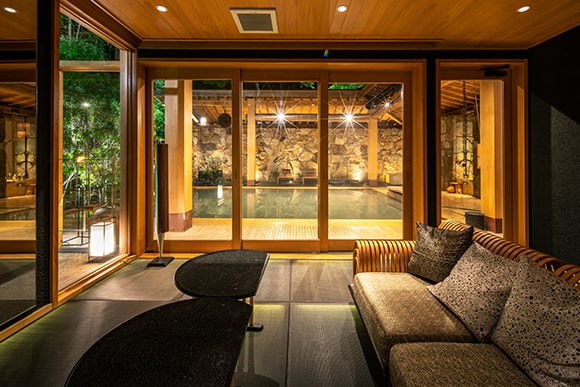 Bang & Olufsen BeoSound 5
The BeoSound 5 audio system from the Danish company Bang & Olufsen.
One of its best features is its highly refined, elegant design.
Listen to internet radio as well as standard audio files while you bathe in the open-air bathtub. Take a long bath and enjoy the high-quality sound.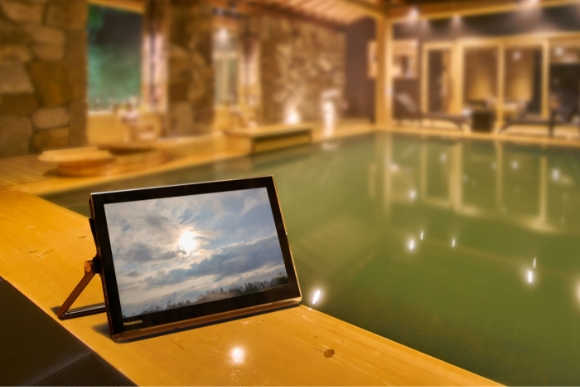 Private Viera
The Private Viera is a waterproof TV you can enjoy anywhere you like.
You can watch this portable TV while soaking in the open-air bath. Just place the Private Viera on the window ledge.
This way you can watch your favourite TV shows wherever and whenever you want.
Enjoy some privacy with the Private Viera.