Introduce you to prejudice of amenities for guest to experience more relaxation only at Takefue's room.
You can select Yukata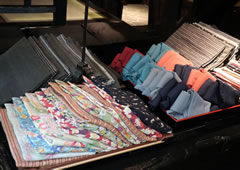 Women yukata are about 20 types, men and children can choose according to your preference from several types of yukata design.
We are also available gauze yukata that gentle on the skin, for men and women Samue.

Millstone coffee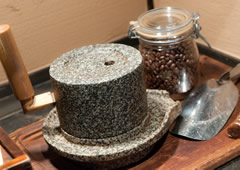 We offer natural wood and granite millstone create an aura of profound in all the rooms.
Spend time to pressed coffee beans which you cannot do in your busy life, a millstone carefully ground a grain that will spread to fill your room with smell of coffee.



Basin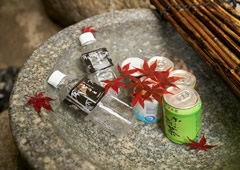 We offer soft drinks to enjoy hot springs and more your leisure, cooled by the indoor bath or basin near the open-air bath in each room.
Every one of all accommodations are competently.
Soft drink is available in cold running water and ice by bamboo grove water.

Tea box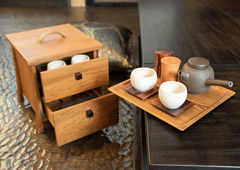 For spend more relax time in the room, we offer tea box made from JINNAISUGI.
The tea box has two drawers. There is tea cup and saucer for a tea cup In the upper, teapot and tea caddy in the lower. Tea is served with green tea and roasted green tea.
There is a tea tray on the back of the box, please enjoy tea at your favorite location.


Aroma Diffuser Mist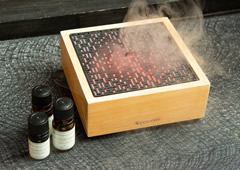 Aroma Diffuser tuneful mist.
We offer all the equipment in your room fragrant aroma directing a fantastic space with mist appeared three color, sensitive to the senses smell, sound, and light. Speaker system has been loaded(able to connect to MP3, MD and DVD) to enjoy your favorite music from Iphone.

Bamboo grove water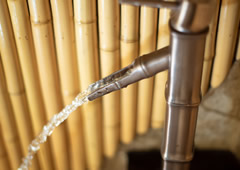 In hot springs Shirakawa, there is a vein source of Shirakawa that is one of the selected a hundred best water in Japan. We use bamboo grove that is a spring water polished by earth rain fell in this area over the 50 years in Takefue.
The hotel's water has been using "bamboo grove water" from all-natural rich mineral springs, and has obtained permission to use as drinking water from the health center.
Available as drinking water for every tap of water.


Straw sandals of silk
We equipped with the straw sandals in all toilet room were made of silk surface 100% and artisan's handmade by afoot. Natural material of silk is known as good for health, such as improve the circulation of the blood. And also feels cool in summer time, makes you warm in winter time.

Towel warmer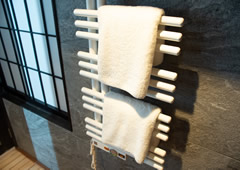 It can be used as a warm towel to taking a bath, has established a warm towel warmer in all rooms.
Also established a chartered open-air bath warmer,we are standing a warm towel.
※There is not installed in cave open-air bath.


Compact stereo
We offer a compact stereo in each room.The reception set up a CD library to lend of your favorite CD.
In addition, also compatible with iPod / iPhone, charging, playback and song selection is possible.After the tranquility pleasure in Takefue,please spend the time with your favorite music in Takefue.

Bedding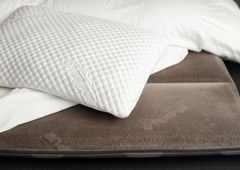 Each room bedding (mattress and pillow)we use the Tempure ones.
Please enjoy the unique Tempure comfort lead us to deep sleep.


Refrigerator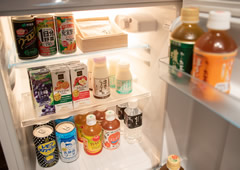 All rooms in the refrigerator of soft drinks, milk,chocolate and every one of all accommodation is complementary.